Your Hub for Railcar Storage and Transloading
Strategic Supply Chain Solutions
USA Rail is a rail logistics company with terminals strategically positioned in key Gulf Coast markets, surrounded by leading names in refining and petrochemicals. USA Rail offers customers a variety of services, including railcar storage, switching, transloading, cleaning and more. With rail terminals in Baton Rouge, Louisiana served by the UP, Orange, Texas dual-served by UP and BNSF, and Port Arthur, Texas served by the KCS, USA Rail is the preferred rail partner for Gulf Coast industry. USA Rail's footprint covers over 335 acres of heavy industrial land, over 3,200 railcar storage spots, and has ample room for expansion.
Multiple Strategic Locations
Three rail terminals strategically located in the fast-growing industrial centers of Port Arthur, Texas, Orange, Texas, and West Baton Rouge, Louisiana
Custom Supply Chain Solutions
Railcar storage, switching, transloading, cleaning and more.
Optionality for Customers
Access to UP in Baton Rouge, KCS in Port Arthur and both UP and BNSF in Orange.
Proven Rail Operators
Unmatched Safety, Service and Security
Experienced in Volume
More than 50,000 railcars switched per year
USA Rail was acquired in July 2020 by Alpenglow Rail. Based in Denver, Colorado, Alpenglow Rail focuses on investing in, developing, and managing freight rail businesses, and related transportation assets across North America.
Learn more by visiting Alpenglow Rail
A.

Baton Rouge, LA
Union Pacific

B.

Port Arthur, TX
Kansas City Southern
USA Rail's Leadership Team
USA Rail is led by rail veterans with over 125 years combined experience in the rail industry.
Director of Business Development
Chad joined USA Rail with 12 years of rail industry experience. He has a passion for the supply chain, with a focus in rail related services. During his years in rail, he has predominantly been in business development while assisting with operations and supervision. Chad managed rail services across the nation, including sales and marketing, new business start-ups, and account management to ensure his customers receive the highest level of customer service. He has managed hundreds of rail contracts, including railcar storage, transloading, in-plant switching, terminal operations and more. Chad prides himself in making sure all customers are taken care of in a timely manner with safety, efficiency and communication as his top priorities.
Chad participates in numerous boards, committees, and organizations, and holds a Bachelor of Communications degree from Lamar University.
Regional Vice President of Operations
Glenn joined USA Rail Terminals in April 2022. He serves as the Regional Vice President leading the operating department on safety, organizational management, customer service, and infrastructure maintenance and improvements. Additionally, Glenn works closely with USA Rail's marketing team to develop rail solutions for customers and to maximize growth.
Glenn brings over 30 years in the rail industry and has a proven track record of delivering safe, efficient, and reliable operations under his management. During his career, he worked for the Union Pacific where he managed several corridors throughout the Southern Region. He spent the last 10 years of his career as Senior Manager of Terminal Operations overseeing Union Pacific's Beaumont, Port Arthur, and Orange territories.
Glenn holds a Bachelor of Business Administration degree from American Intercontinental University.
Davis joined Alpenglow in 2017. Davis works across all Alpenglow businesses, but his primary focus is as the Director of Finance for USA Rail Terminals. Here, he leads best practices focused on finance, human resources, marketing, accounting, and all other back-office operations. Davis works cross functionally with every aspect of the business, leveraging nearly a decade of knowledge gained from his undergraduate studies and experience working in the rail industry.
Davis's entire career has been based in the logistics realm. Within this, he has been central to implementing new systems and financial reporting supporting Alpenglow's significant growth. Davis is responsible for growing the standards of the accounting and finance departments, implementing technology, developing key operational metrics, serving administrative needs, and leading US audits, ensuring that stakeholders of USA Rail Terminals can view the financial performance with trust and assurance.
Davis holds a Bachelor of Finance degree from the University of Colorado.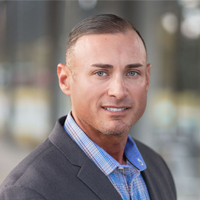 Dan joined USA Rail Terminals in April 2022. He serves as the Senior Terminal Manager, overseeing safety, rail operations, and supporting commercial growth for the company. Dan is a seasoned rail veteran with over 13 years' experience in both rail operations and commercial growth.
Dan's prior experience includes five years with BNSF as a Locomotive Engineer, along with holding roles such as Director of Logistics, Yardmaster, Designated Supervisor of Locomotive Engineers (DSLE), Train Master, and Conductor with multiple shortline rail companies. He is experienced in the development and implementation of FRA qualifications, testing, and compliance for locomotive engineers.
Dan prides himself on safety, compliance, and customer service, and brings a unique combination of operations and commercial expertise to the team.
USA Rail is fully owned by Alpenglow Rail and is supported by the Alpenglow Rail executive leadership team.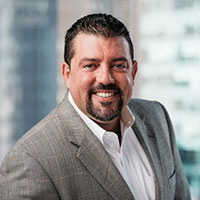 Rich is a Partner and the Chief Executive Officer of Alpenglow Rail. Rich has over 20 years of experience in executive leadership, developing and growing businesses, and executing large scale transactions. Rich began his career in commercial real-estate, and prior to Alpenglow, spent 10 years as Senior Vice President of OmniTRAX / The Broe Group, one of the nation's largest shortline railroad, real estate and oil & gas holding companies. At OmniTRAX, Rich located many new customer facilities to its railroads and industrial parks including Anheuser Busch, Cargill, Halliburton, Vestas, and many others. Rich has managed businesses and assets with over $1 billion in value, purchased and sold over $500 million in transportation and real estate businesses, and developed nearly 10,000 acres of land. Rich received a Bachelor's degree in business finance, with emphasis in real estate from San Diego State University.
Darcy is a partner and the Chief Operating Officer of Alpenglow Rail. Darcy has over 25 years' experience and a proven track record in improving operations, safety and bottom line performance for leading shortline rail companies. Prior to joining Alpenglow, Darcy was President and COO of OmniTRAX / The Broe Group managing 2,500 miles of track, 17 shortline railroads, four switching operations, two port facilities, and two intermodal concessions. Before OmniTRAX, Darcy spent over ten years with BC Rail where he developed and implemented the company's first system wide integrated operating plan which drove significant profitability improvement leading to its $1 billion sale to CN in 2004. Darcy received his MBA from the University of Western Ontario and a Bachelor's degree from the University of British Columbia.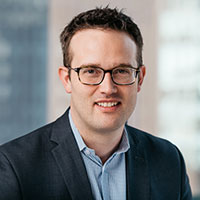 Henning is a Partner and the Chief Financial Officer of Alpenglow Rail. Henning has more than 15 years of infrastructure and transportation deal experience, with an emphasis on sourcing, assessing, and executing investment opportunities. Henning spent 12 years in Deutsche Bank's M&A group focused on rail, terminals, ports, and aviation. Following, Henning ran corporate development for OmniTRAX, responsible for sourcing and executing deals in the rail, terminals, ports and related transportation spaces. Henning received his MA (Hons) in International Business from the University of Edinburgh.
Josh is a Partner and the Chief Strategy Officer of Alpenglow Rail. Josh has over 10 years' experience in strategy, corporate development, and investments primarily focused in shortline rail. Prior to Alpenglow, Josh was Director at OmniTRAX / The Broe Group where he developed and executed growth initiatives, sourced and executed investment opportunities, and built and led its research & analysis capability central to the company's strategic planning and growth. Josh started his career in wealth management, providing asset management and financial planning to high net worth individuals and businesses. Josh received his Bachelor's degree with an emphasis in finance and entrepreneurship from the University of Colorado.
Markets and 4 Class 1 Railroads
USA Rail Switches More Than
Get safe, convenient railcar storage and transloading today.
To speak to our rail experts in the Gulf Coast